Ever thought of looking beyond the top list of trending hosting service providers which aims for service improvement rather than manipulating pricing reduction strategy? If yes, then you should definitely consider Scala Hosting and what it has to offer in price lesser than many hosts.
Scala Hosting is a growing web hosting company with State-of-the-art in-house security solutions and scalable hosting options for a large domain of audience. Their cloud servers provide unlimited web hosting services, CMS integration, managed service options and excellent 24/7 knowledgeable support. Although the traditional cPanel users may complain about the dynamic lag but it is not true for everyone. Their specially designed SPanel works very fine and undergoes a continuous bug fixes periodically for smooth navigation.
With more than 50,000+ happy customers and 700,000+ websites hosted online, Scala Hosting is an independent service provider from Dallas, United States. Established in 2007, Scala hosting has worked continuously towards providing next level hosting evolution. Their unique standout is the undivided focus on providing a high-performance and ultra-secure VPS service for masses at affordable pricing. They believe every website owner in the world should have their own cloud VPS with dedicated control panel, secured backups and managed by industry-experts 24/7/365.
Over a short span of 5 years, the introduction of 'SPanel' as All-in-one proprietary hosting platform, 'SShield Security System' & 'SWordPress Manager' for blocking 99.998% malicious attacks; have showed how seriously Scala R&D team is dedicated towards providing the best and secured service worldwide.
The point that really excites me with Scala hosting is that they dare swimming against the flow. Rather than aiming for lower price-tag war, this company aimed for improving their hosting environment. Unlike others, Scala hosting targeted VPS/Cloud plan from their very inception and made it a resource for everyone; small or big. There isn't any other company in the world who can match this offer at a price point of as low as $12/month.
99.9% uptime guarantee
Superior Hosting security features
Industry leading performance & speed
Intiutive SPanel for easy navigation
Excellent SShield security system to block 99.998% of attacks
Dedicated SWordPress Manager for ultra-secure functioning
SSL powered servers
SShield protection keeps you safe with built-in AI for detecting malicious behavior
Free and effortless Migration service
Very powerful VPS + SPanel infrastructure for private resource base rather shared
Unlimited Storage capacity enables hosting unlimited number of applications, with no restrictions on quantity or space
Free website migration

Free Domain
Free SSL
Free CDN
SSD Powered Servers
Unlimited Databases
Unlimited Emails
Unlimited Bandwidth
1-Click WordPress Installer
30 Days Money back guarantee
Provides

White label hosting

service
7 backups for last 7 days
Award-Winning

24/7/365 Hosting support

Host unlimited websites with unlimited storage capacity (except the base plan)
Scala Hosting has worked tirelessly towards providing a secure and reliable set of environment where website owners do not have to worry about their website being attacked or hacked. Let us see some of the Proprietary In-house Innovative features powering the future of VPS Hosting.
'SPanel' by ScalaHosting is an All-In-One Proprietary hosting platform for managing the Cloud VPS services with ease. It is in fact much more diverse and an easy replacement of the traditional cPanel. It handles everything that cPanel does – email management, SSL setup, database management, DNS service and even lets you resell hosting of your own. This complete hosting solution lowers down the value of Shared hosting because you can have a fully managed SPanel Cloud VPS for just a little extra per month removing all software constraints. 
With a ton of Open-source platforms like WordPress, Joomla, Opencart, Magento & Drupal, it becomes way more easier for hackers to compromise the websites in shared web hosting environment. Google also indicated the security concerns in lot of their survey statistics. That is why ScalaHosting came out with their very own In-house Cyber Security Solution called 'SShield' which will provide you an advanced level of protection for all your websites. It successfully blocks 99.998% of the malicious attacks online.
WordPress is among the top choice open source platform for creating beautiful websites, eCommerce stores, apps, or blogs. Every 3rd website on the internet is created using WordPress. That is why ScalaHosting has designed a dedicated 'SWordPress Manager' for easy management & smoother security.
Here is what you can do with the SWordPress Manager today
Managing multiple WordPress websites

Enable/disable automatic updates

Admin password control

Enable/disable Security lock
SWordPress Manager is part of the SPanel platform allowing every website owner to have their own managed cloud VPS with a control panel, SShield real-time protection, daily backups and snapshots at an affordable price close to shared hosting.
Scala Hosting offers a wide range of Plans and Pricing options to choose from. Whether you are a small user or a big company, Scala hosting can fulfill all your needs with added security features as add on. With Cloud/VPS plan being the most cost-effective, there is no reason not to try it instead of usual Shared plan. Scala's VPS plan offers great value for money with impeccable performance.
Managed cloud vps hosting
self-Managed cloud vps hosting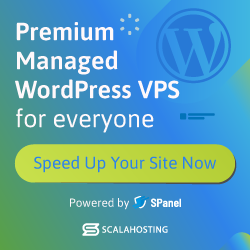 Now that we have seen all the negatives and positives of Scala Hosting, you might be thinking that why the hell should I choose Scala over hosting giants like Siteground, Bluehost or Hostinger per say?
The answer is simple!
First, you won't get a Managed VPS service at the Scala's price point in any other company. And Second, owning a dedicated Cloud/VPS is going to be the next big thing in Hosting Evolution. The earlier you taste the fruit, the sweeter it will taste 🙂 
Scala Hosting may not be the widely heard name now, but by the technological advances that this company is putting in over these years, I'm sure it is going to be the next big thing!
In my research and opinion, Scala Hosting is continuously working on beating their own standards by offering great features, stable performance, and exceptional security considerations. Although the initial Shared plans are considerably on a higher side, but the VPS plan packages offer a phenomenal value of money for everyone. For the amount they charge for their starter Cloud/VPS plans, most hosting providers would offer only the shared plan.
All websites are secured on their high redundant networks; providing you total control with full remote capabilities and data protection. Additionally, their every hosting plans are fully equipped with unlimited storage and space; comes with a whopping 30-days money back guarantee.
In short, Scala Hosting is a great choice if you wish to have a no-bullshit host with excellent performance. Fully managed, ultra-fast Cloud VPS makes Scala Hosting worth trying.
AFFILIATE DISCLAIMER
Bear in mind that some of the links in this post are affiliate links and we may receive some commission when you click on them and make purchases. However, this does not impact our reviews or comparisons in anyway. We try our best to keep things fair and balanced, in order to help you make the best choice for you.